Gulfport Nissan - Car Rental Service
Thanks for visiting Gulfport Nissan where this site offers vehicle rental services to customers all over the Gulf Coast. We have plenty of vehicles available to rent if you're searching for a car, pickup truck or SUV. You'll also benefit from exceptional customer support which is one thing you won't experience at any general automobile rental company. Visit Gulfport Nissan and learn more about our car rental service, call 228-864-6791 where a helpful dealership rep will be happy to provide information about availability, cost plus much more. We're also doing our very best to make certain each rental car is thoroughly cleaned prior to hitting the road. Gulfport Nissan is your stop for car rental solutions on the Gulf Coast so call us today!
Nissan Rental Car Program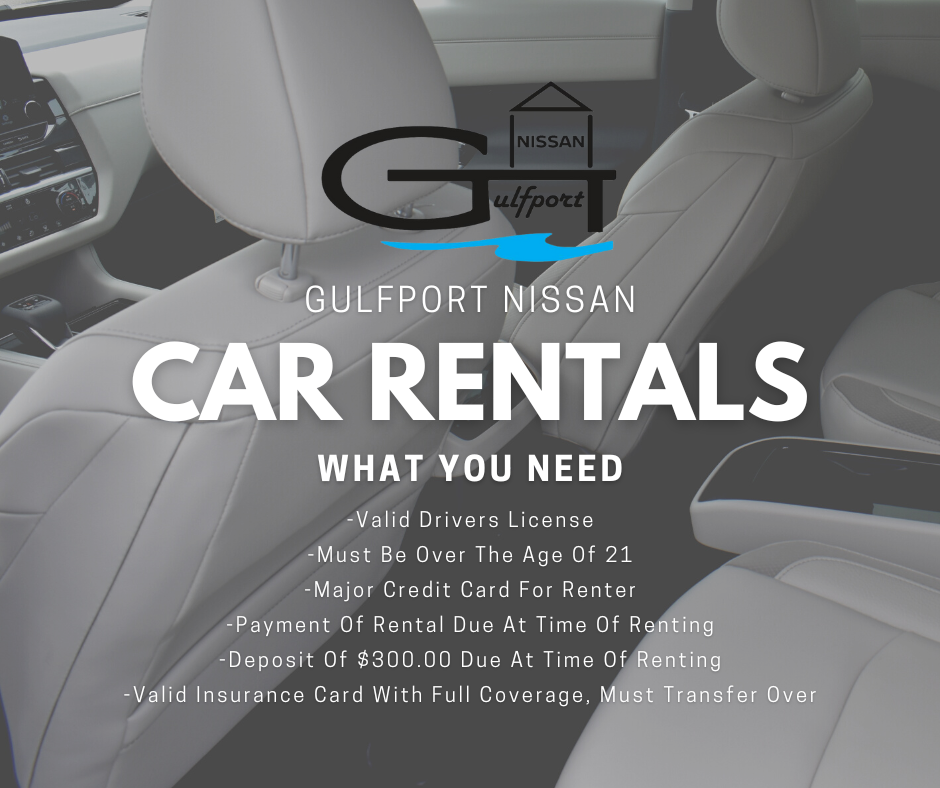 What is the Nissan Rental Car Program?
At Gulfport Nissan, the Nissan Rental Car program gives you the chance to experience the latest Nissan models and technology straight from the source. From business and service to weekend adventures, use competitively priced Nissan Rental Cars to get you where you want to be with quality assured by Nissan maintenance experts nationally.
Flying in to Gulfport-Biloxi International? Start your trip off right with our fast, friendly pick up and drop off service to GPT at no extra charge.
Available Nissan Models for Rent
Rental Reservation Request
Text us to reserve a vehicle at (228) 222-8696
Getting your car serviced and need a rental? Ask about our discounted rental rates when your vehicle is scheduled for service.